My Team reports
The 'My Teams' area is there to support Line and Group Managers with managing their team's training. Central Administrators have access to this area and will contain data for all users.

The manager will get a great visual of the validity of the courses that have been assigned to each individual, dates of classroom events, if there are any approvals required and outstanding objectives.
The screen might look different to the screen shot below - if you have a large team or are a central administrator the team list might be collapsed rather than listed in full.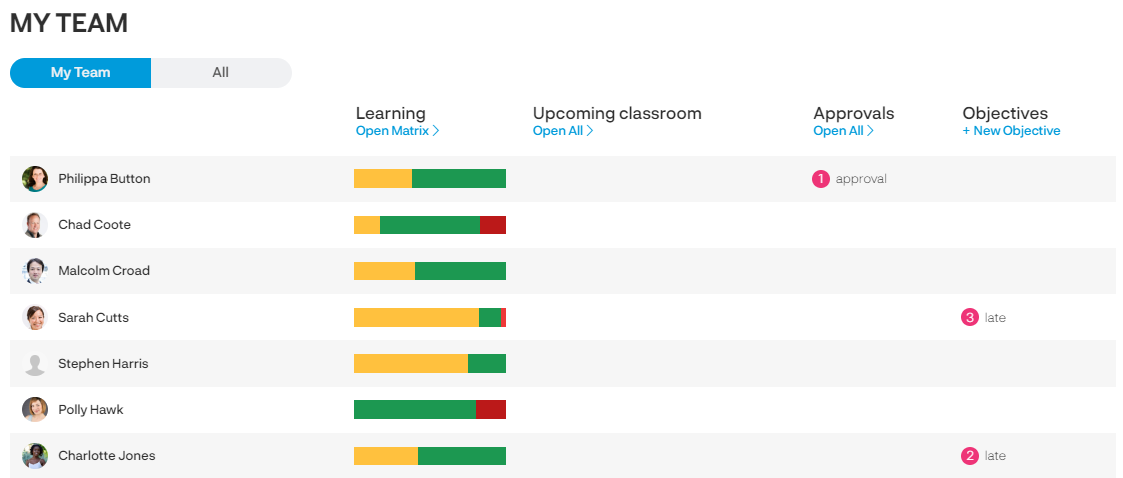 Managers can drill down by clicking on the users name or the classroom, approval, or late item which will take them to the individual record.

Learning log

Click on Learning log to download a PDF of the individual's training record

Progress report

Click on Progress report to download a PDF for a breakdown on the progress made on all assigned courses

Approvals

Click on the individual item to open the approval process

Upcoming classroom

This details the dates, time, location of any classroom events the individual is booked on.

Click on 'View event' to see further information about the event.
Managers are able to update current and create new objectives and review previous sign-offs.