How can a practical module be used
Practical modules allow you to ask the learner to provide a written response or upload a document that may or not be viewed and signed-off by a manager.
The following are situations in which Practical Modules would be useful:
1. Ask the learner to reflect on something they have learned and ask them to apply it to their work
For example, "Following the Feedback video, what will you change about how you give feedback to colleagues?"
In the example below the learner will enter their reflection but the manager will not be asked to sign it off.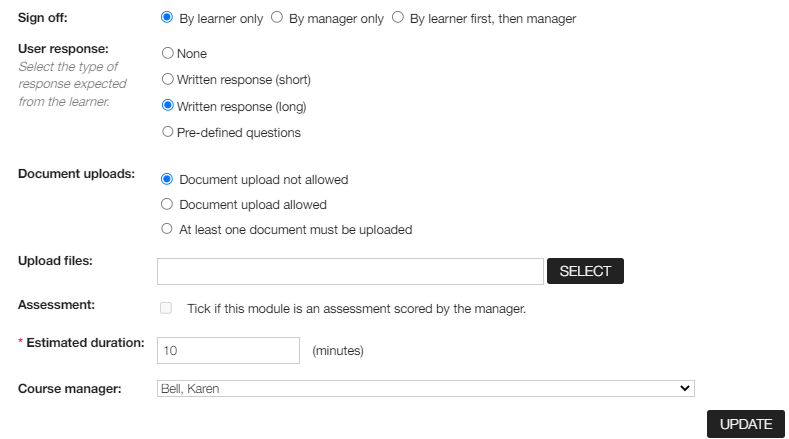 2. Ask the learner to complete an offline activity sheet and submit it for review/marking.
In the example below the learner is asked to download a document from the resources section of the course, complete it and upload it for the manager to review. Alternatively, you could ask the learner to give the completed worksheet to their manager rather than upload (avoiding the need to scan the document and upload). In this case, you would remove the 'Learner must upload at least one document first' requirement. If you want the manager to be able to upload the marked document when signing off the module, enable 'At least one document must be uploaded' on Document upload. If you want the worksheet to be marked and given a score, tick the 'Assessment' option.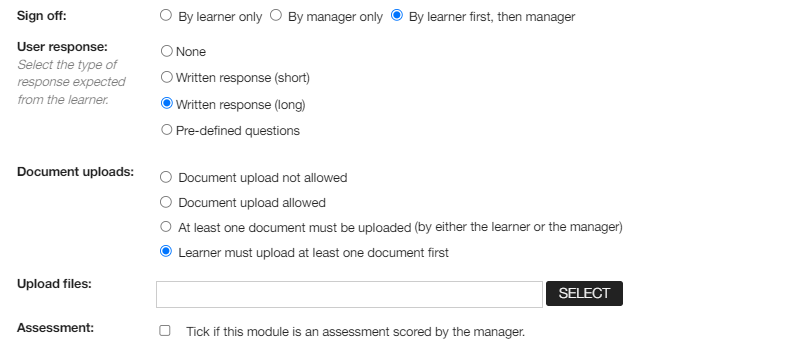 3. Allow the manager to sign-off the competency of an individual before they progress with the rest of the course, or at the end of a course
In the example below, this Practical Module could be set as a required last item in a course. The learner is only asked to confirm (tick a box) to let the manager know they are ready for the off-line competency check. The manager will be alerted that they have sign-offs to complete and will be able to complete the sign-offs via their Approvals area in My Team when they log in to Breeio.