Cancelling attendance at an event
By default, learners can cancel their attendance at an event up to 14 days before the event takes place – some of our clients have requested a specific configuration and therefore this might not be the case on your platform.
Learners will have access to a 'cancel attendance' button during this time and they simply click on it and their name will be removed from the attendance list for the event.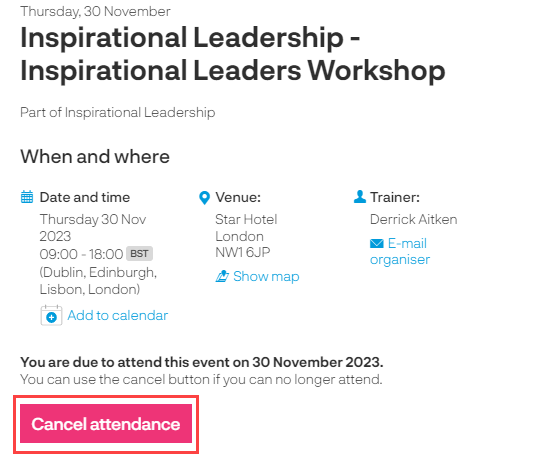 The 'cancel attendance' button will not be available 14 days before the event, the learners are provided with on-screen instructions of who to contact if they can no longer attend the event.
System administrators or those who have been given specific permission can cancel delegate attendance to an event that is due within 14 days. To do this go into the event from the Training Calendar and click on the 'Action' tick box next to the learner who can not longer attend the event.
An 'Actions' drop down menu will appear, click on 'unassign'.

You will be asked if you are sure you want to remove the learner from the list of delegates with two options:
Remove and notify will remove the learner and notify them they have been removed from the list.
Remove will remove the learner without sending them a notification.
A record of the cancellation can be found in reporting by using the black document icon either in the Course Breakdown or User Overview report: