01 October 2019
Engage new joiners with your onboarding programme
Onboard and engaged!
5 tips for using online tools to build a balanced onboarding programme that impacts engagement and retention
Most would acknowledge that the first days of a new job are important, but do we know just how critical these initial days are?
New employees decide whether they feel at home or not in the first weeks in a company. Research conducted by The Wynhurst Group found that 22 percent of staff turnover occurs in the first 45 days of employment.  And this is a costly loss, estimated to cost the organisation at least three times the individual's salary.
Thinking more positively, over the past two decades research has repeatedly shown that when new employee 'onboarding' is done correctly, it leads to higher job satisfaction, increased engagement, lower turnover, improved performance, career effectiveness and lowered stress.
Increasing numbers of companies are turning to web technology to support their onboarding programmes, seeking the benefits of efficiency and consistency that online portals can deliver.
But how do you balance the drive for efficiency with the need for new starters to establish 'people connections'?  How do you create an onboarding programme that helps new colleagues conform, but also maintains their personal authenticity? Can an online portal allow an organisation to focus on both compliance and social connections?
Acteon has experience in helping organisations develop successful onboarding programmes that strike the right balance and make a positive impact on engagement and retention.  We've based our advice on Society for Human Resource Management research, and the 'Balanced Onboarding' diagram aims to remind organisations to consider the key elements of onboarding when designing their programmes.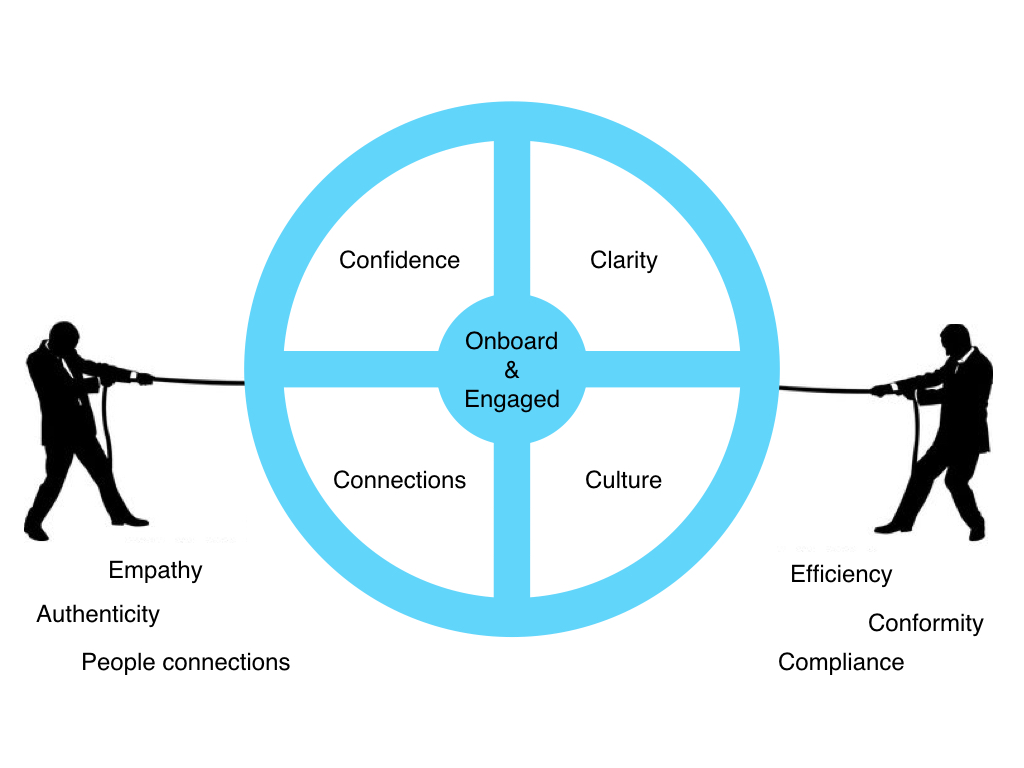 How can an online portal help your organisation deliver this balanced onboarding programme that impacts retention and engagement?
Offer Pre-boarding
Give new colleagues access to your online portal before they start, as during this stage they are eager to know more about your organisation and their role in it.  Share information about the company's vision and values, as well as examples of the kinds of work your new colleague will be doing.  You can also offer key compliance training courses in advance and reduce the 'time-to-competence' once they've started.
You may want to provide information about where they'll be working, parking, bicycle routes and lunch locations.  Acteon created an online video 'welcome pack' for a major broadcaster that 'walked' the new colleague around the building, demonstrated how to use the lift, showed them the canteen and answered other logistical questions.
This may also be an opportune time to ask new colleagues to complete required forms.
Finally, some organisations find it helps establish confidence to offer a kind of self-assessment, designed to encourage the new colleague to think about their uniqueness and strengths and how these map onto their role. Research published in MIT's Sloan Management Review indicates that whilst most onboarding programmes are designed to get new colleagues to conform, the better approach is to encourage them to retain their authenticity and 'signature strengths'.
These pre-boarding steps all help to build confidence and clarity about the role and the company structure and culture. Choose an onboarding portal that allows you to begin communicating with and training new colleagues before they join.
Add a human touch
Connecting new starters socially is a key aspect to successful onboarding programmes.  Use your portal to schedule on-the-job mentoring meetings at several milestones in the first 6 months. These meetings can be signed off by managers along the way.
If job shadowing would be helpful, ask the new colleague to reflect on their experience using a journal in your onboarding portal.
Face-to-face orientation events offer opportunities to connect with peers and organisational leaders, as well as gain cultural insight.  Use your online portal to assist with face-to-face event booking and management, enabling you to deliver induction topics in whatever mode suits the subject.
Finally, allow new colleagues to customise their profile on the portal, perhaps by uploading a photo of themselves or adding other background information about their interests. Creating a team directory will also allow the new colleague to connect with the new team.
Design blended role-based starter packs
Clarity on what's expected in the role has a big impact on the new colleague's productivity and retention.
Use your online portal to create 'role starter packs' that can be assigned to new colleagues. Starter packs to include PDFs or web links to job descriptions and role profiles, video interviews with peers in that role, or a description of key competencies and behaviours that the role requires.
Providing clarity on where the new colleague might progress in the future is also important. Consider creating a career pathway resource that shows how a new colleague could grow and take on new roles and responsibilities with the company. You might want to start with your most critical roles, or particularly where you have high-turnover and 'at risk' roles.
Support line managers
Line managers are key to building clarity, culture and connections for the new colleague, and your support of these managers is critical.
Remind managers of meeting milestones, such as one-to-ones with the new colleague, and give them tools to make notes and mark completion of these key onboarding touchpoints.
Set your portal to give your managers access to up-to-date progress reports as colleagues engage with your induction programme. Or schedule reports for automatic delivery to the team or department managers who need to monitor progress with induction.
Consider building a simple onboarding support pack for managers and delivering it through your portal. Provide information about their role and responsibilities in the process, as well as tips on welcoming new colleagues and conducting one-to-one meetings.
Encourage exploration and self-directed learning
Helping new colleagues establish independence and to take ownership of their ongoing development is also important.
At the onboarding stage, introduce the new colleagues to your broader people development resources on your blended learning portal.
New colleagues can grow their confidence, clarity and understanding of culture through self-directed learning modules and resources. Publish your course catalogue and browse-able 'Resource Catalogue' populated with links to job aids like checklists, helpful videos and policy summary documents and let your new starters explore.
Providing the right start for your new colleagues pays big dividends in productivity, retention, engagement and customer satisfaction.  SHRM research tells us that new employees who attended a well-structured onboarding orientation program were 69 percent more likely to remain at a company up to three years.  Using an online platform, like Breeio, can allow you to deliver a balanced, blended onboarding experience that ensures your people get the best start possible.
Acteon's Breeio LMS is a one-stop blended learning platform that allows you to deliver a full people development strategy, beginning with a balanced onboarding programme that makes a positive impact.  Breeio gives you the freedom to blend e-learning modules, classroom sessions, surveys, videos, social sharing, supporting resources, informal reflection and mentoring, all from one learning portal.