21 August 2020
How can you demonstrate the impact of L&D on your business?
To keep learning on track, you need to keep track of learning: when it comes to demonstrating the impact of L&D on your company, your LMS plays an important role in delivering regular, detailed learning reports to managers.
There are many reasons to invest in an LMS that can support compliance training. A crucial reason is that a good LMS will help you to send reports out quickly and efficiently to managers.
Make managing learning manageable
According to LinkedIn's 2019 Workplace Learning Report, 69% of L&D professionals say that getting managers actively involved or engaged in learning is one of their biggest challenges.
So how can reports be used to increase executive engagement?
1. Easy-to-access, readable reports: Highlight the successes you're achieving, as well as the areas that may need more resourcing, and help senior managers translate that information to support their own reporting.
2. Monitoring training impact: Reports indicate that 4 in 10 employees who receive poor job training leave their positions within the first year, so your senior executives will appreciate being able to monitor training progression.
3. Informing performance reviews: These reports are also incredibly useful for performance reviews and promotions, as you can monitor individual performance and engagement levels.
4. Snapshot of the organisation's training status: Your LMS reports will show whether everybody is up to date with their training, and notify individuals of any certifications that need renewal. To keep on top of employee training, leaders need up-to-the-minute reports on what training courses employees have completed, and how many hours of training they've received. With an LMS they can get access to this, whenever they might need.
By keeping on top of learning like this, you can demonstrate to your managers that learning plays a large role in maximising business success and minimising problem areas.
Clear reports show clear results
The best LMSs can break reports down by department, locations, job role and more, and show how many people from each sector have completed each course. In this way, executives can identify if any areas within the company are lacking. Breeio's reports, for instance, colour code compliance status for each sector, so leaders can quickly identify areas of success, or room for improvement.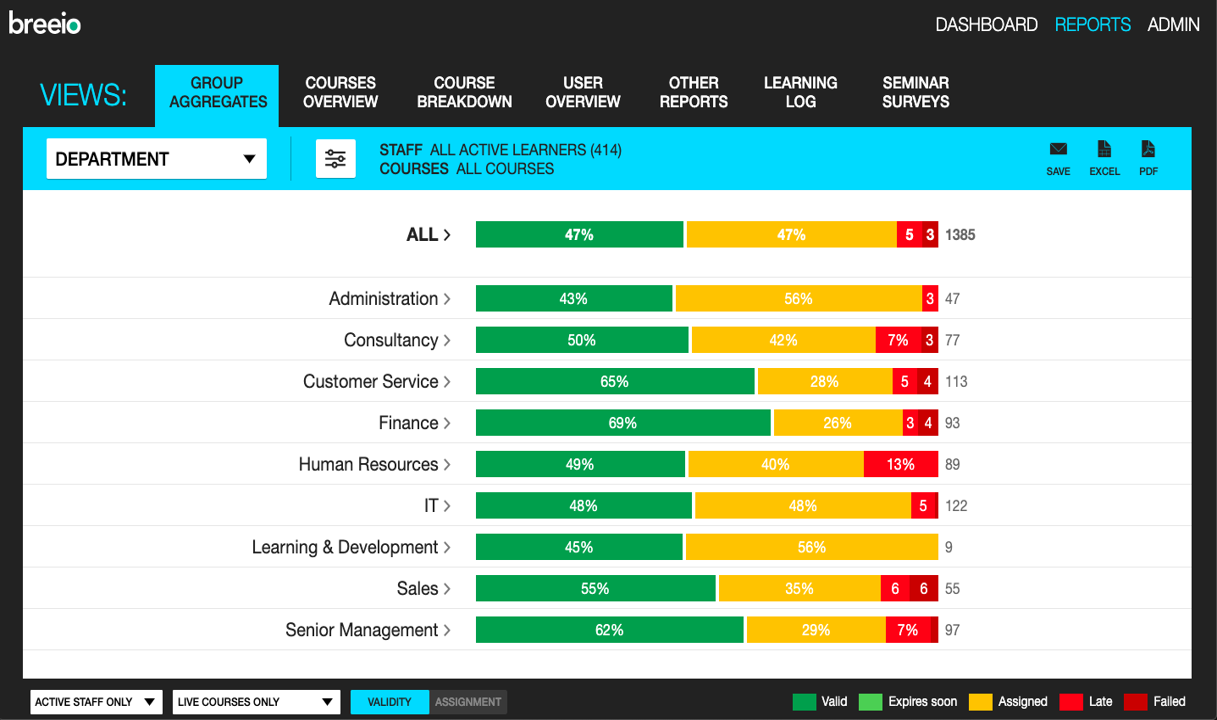 This kind of dynamic reporting is crucial for businesses to adapt to current challenges they're facing. In times like this, being able to identify weak points on the go means the business can not only ensure that all necessary audit requirements are met, but it can adapt and upskill straight away.
One survey found that 75% of companies admit to struggling with overwhelmed employees. Although by no means comprehensive, these reports can reveal sectors of the company where staff are having trouble keeping afloat - learning is often the first thing to be cast aside by someone who feels pushed for time.
What are you waiting for?
When your LMS can deliver dynamic, uncomplicated reports at the click of a button, your senior executives will get clear visibility of the impact L&D has on the regulatory 'health' of the organisation.
And they can do a lot more to make your department stand out too. Click here to download our whitepaper, '6 ways an LMS can help L&D shine,' to find out how the right LMS can be your new best friend. Or why not check out why Breeio can make your life a whole lot easier.