Learner experience when signing up to an optional course
The course creator will select if the course will be mandatory or optional in the assignments section when creating a new course.
When an optional course is created (for all learners or for specific learners) the creator will be presented with different approval options:
| | |
| --- | --- |
| No approval required for optional courses | The learner can sign up and complete the course without requesting approval. |
| Manager only | The Line Manager or Group Manager will need to approve the request. |
| Central only | The Central Administration team will need to approve the request. |
| Both Manager and Central | Both the Line Manager or Group Manager and the Central Administration team will need to approve the request. |
When the learner signs up for a course their experience will depend on a number of factors including if approval is required and if the course contains an Instructor-led module. Let's look at some examples to demonstrate the different processes.
Scenario one - no approval
The learner is able to add the course into their assigned courses by clicking on the course tile, clicking on the 'add this course' button and can start the course to take them straight into the course page.

Scenario two - approval required from Manager
When approval is required the learner will be asked to add some detail to support their request - they might be required to upload documentation to add further support. They will be advised their request has been sent to their Manager for approval.
Remember - after the manager approval the request might be sent to the Central Administration team for approval or it might have been created so it requires approval from the Central Administration team only.

The Manager will receive a notification in the approvals section on their homepage to approve or reject the approval.
The learner will receive an email to confirm the decision and if the request has been approved the course will be available to the learner in the assigned courses section.
Scenario three - optional course containing an Instructor-led module
When the learner clicks to add this type of course to their assigned courses, they will be asked if they want to 'pre-book a date' or 'select a date later' for the Instructor-led module.
If there are dates scheduled in the Training calendar they will be presented on screen for the learner to select one that suits them. They can click on the event to view further details about it.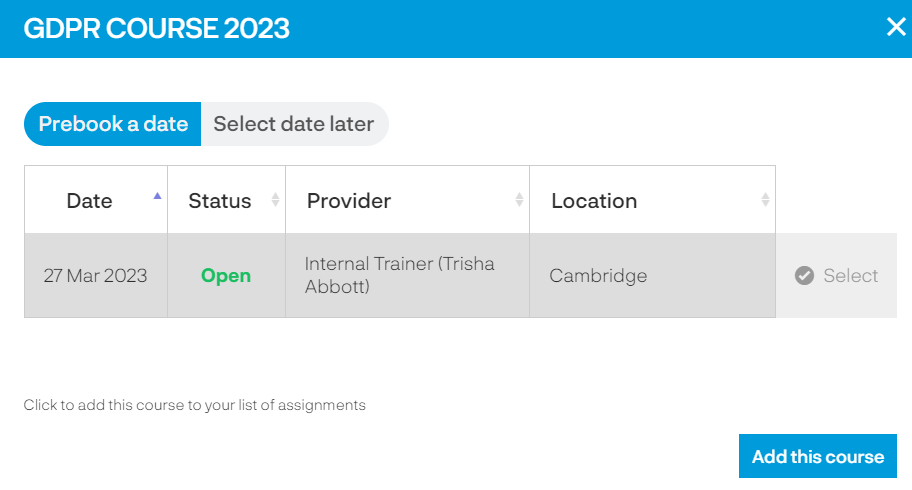 If they choose 'select date later' the course will be added into their assigned courses and they will receive a notification on their homepage that they are required to book a date.